The flower is the poetry of reproduction. It is an example of the eternal seductiveness of life. ~Jean Giraudoux
May, oh May! Love and passion most definitely ring through our midst. Flowers bloom everywhere while birds serenade us with their joyful mating songs! This is the time to celebrate love and to honor our passions for life, creativity, and all that bring us joy! What better way to focus our energies and encourage loved ones to follow their bliss than to get together for a joyous May Fair?!
Activities to enjoy are certainly not limited to food. Take for instance the lovely tradition of May Baskets, or the touching garden dedication activity. Nonetheless, the celebratory meal and the decor of the table offer wonderful opportunities to truly set the mood. Below are my selections. Enjoy!
Why Victorian?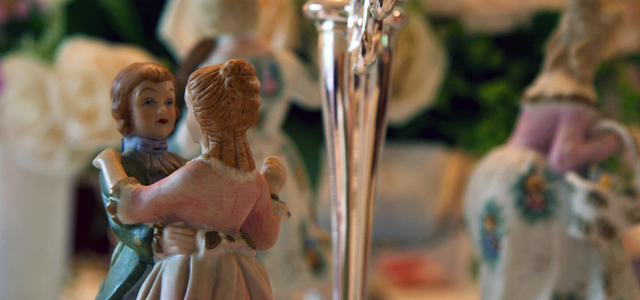 While traditional May decor frequently conjures images of flowers, baskets, and maypoles, all of which I adore and have explored in alternate May table settings (like this one), I also find myself drawn to the romantic charm of the Victorian era. Therefore, this year, I decided to try something a little different and share with my guests my passion for Victorian decor by creating a tablescape brimming with the romanticism of this bygone era.
 Tablecloth & Placemats: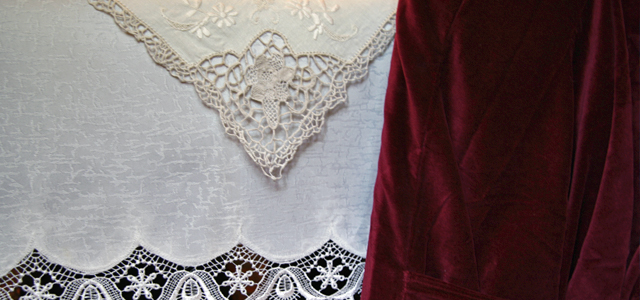 Tablecloth: Whites, laces, and ornate patterns… these are recurring Victorian table linen fineries!  This cloth that boasts a lovely and elegant ivory lace is available at Amazon.
Place Mats: I explored roses, lace patterns, burgundies, you name it and found myself unhappy with all of the place mats I contemplated, that is until… it hit me! Napkins as place mats! I bought a set of vintage napkins from ebay at a wonderfully reasonable price and was so pleased! For one thing, they embodied the elegance I was looking for and even their unlikely shape echoed patterns in surrounding lace. Also and not to be diminished, they were vintage! Yay! They added that energy, that air of loveliness that only comes from linens of yesteryear, and in addition, I lessened my contribution to the consumerist machine! It pleases me beyond words to support others directly by purchasing their unwanted, gently used items at reasonable prices and restoring them to their former glory.
Dishware: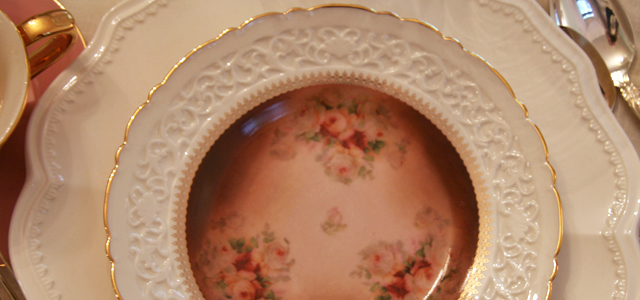 Playing with ivory, lace, florals, fine details, and coordinated mismatch, this lovely dishware includes the following:
Dinner plates: Red Vanilla Classic White dishwasher-safe dinnerware available at Overstock.com.
Salad plates: Beautiful Roses at Sunset pattern, retired but still available at Victorian Trading Co.
Glassware: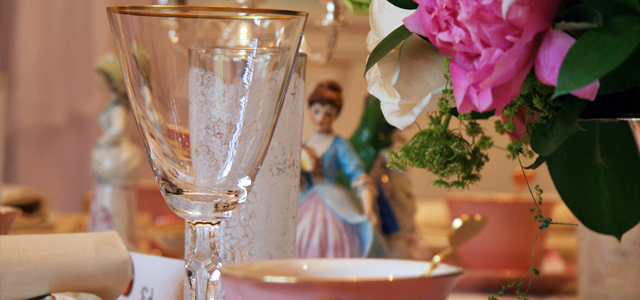 Water Glasses: Gorgeous bobbin lace tumblers available at Victorian Trading Co.
Wine Glasses: These striking gilded Fostoria crystal wine glasses coordinate beautifully and were purchased a while back as a gently used set on ebay. (Note: I got a crazy, amazing deal on these glasses. If I told you what I paid, you might not believe me! Ebay is a wonderful resource for recycling. Others convert what they are no longer using to cash, and you can augment your entertaining supplies without breaking the bank. Also, no new goods need be manufactured! It is very win win! Please keep this option in mind when considering new purchases.)
Tea Cups: Gilded mauve inside out heart cups and saucers are such a loving touch. When filled with liquid, they form a heart shape delightful to behold! They are available at Amazon.
Frosted Sugar Cubes: The saucers are embellished with dainty sugar cubes iced with rosebuds. So sweet. These are available at Victorian Trading Co, or you could make your own!
Heart Demi Spoons: Each cup contains a delicate, heart-embellished, gold demi spoon resting within it. These, too, are available at Amazon.
Centerpiece: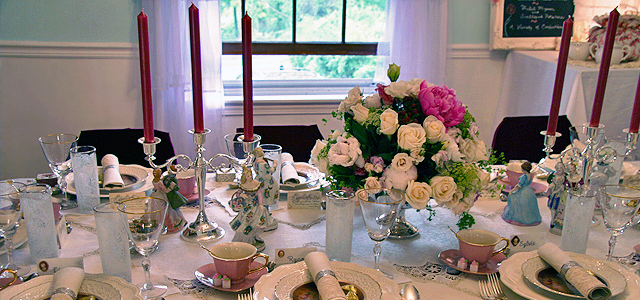 Victorian traditions frequently included as much silver as possible. Candelabra and floral arrangements were also the rage. With these influences in mind, my centerpiece included the following:
Floral Arrangement Seated Within Raised Silver Pedestal Bowl :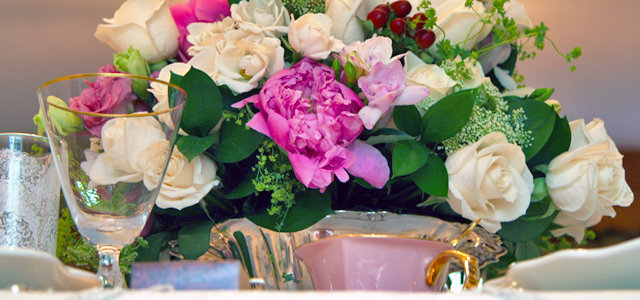 To accomplish this, I purchased my bowl gently used on ebay and brought it to my local farm stand florist along with color samples from my table setting. I asked her to include roses and peonies and not lilies as they feel funereal to me.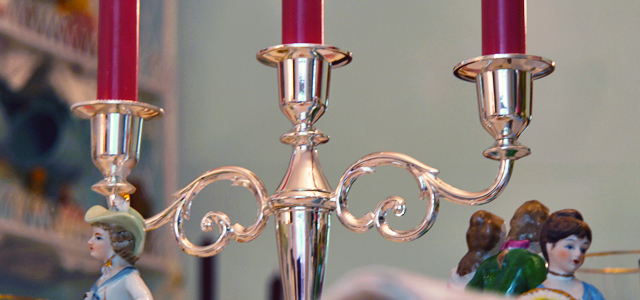 One "Artwedding Vintage Silver Iron 3 Head Candle Holder" available on Amazon sits at each side of my floral centerpiece.
Nestled within my candelabra rest 6 rose beeswax tapers (3 in each). They, along with the best color assortment of beeswax tapers I have ever seen, are available at Knorr Beeswax. (Note: beeswax, soy, or palm wax candles are preferable to paraffin as they do not release toxic compounds into your environment.)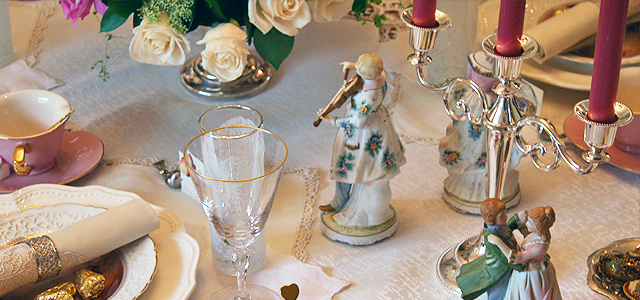 Surrounding the candelabra Victorian-inspired figurines frolic, three on each side. These were purchased in a gently used lot on
ebay
. Most all of them have small, barely perceptible imperfections, which made them quite inexpensive, and yet contributed to their uniqueness and charm. It was a joy to include them on the table. They helped perpetuate the tone I was striving for, as Victorian style, much as I love it, can arguably border on austere, and to me a romantic and passionate celebration must brim with  joy.
Vintage Cameos Seated In Silver Candy Dishes:
Once more, these were purchased in a gently-used lot of vintage costume jewelry from ebay, the same lot in fact, that I dipped into for my Shabby Chic Spring Table Setting, making it the gift that keeps on giving!  My guests truly enjoyed pouring through them, exploring their colors, beauty, and charm, and speculating on the stories they might tell if they could. The cameos are seated in matching silver candy dishes also purchased in my most preferred manner, gently used on ebay.
Napkin Treatments: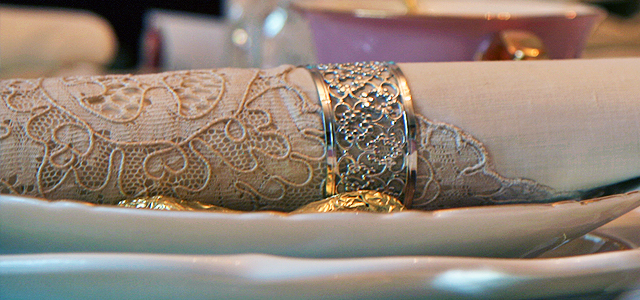 Napkins: Gorgeous vintage ecru, linen napkins edged with French Alencon lace and purchased gently used and most reasonably priced from ebay made the ideal napkins for this setting.
Rings: They are rolled very simply in light-weight yet ornate silver napkin rings also used from ebay. Another possibility is to purchase vintage silver plate napkin rings that all boast unique engravings/embellishments. This is a very Victorian tradition dating back to each guest having their own holder that reflected their unique preferences and personality, thus ensuring they were specifically using their own napkin.Though I did not exercise this option, it is one you may want to consider.
Chair Treatments:
Burgundy velvet chair covers turned standard banquet chairs into those of Victorian legend! I had to fold and pin these to tailor them to our chairs, but I was most pleased with the outcome of my efforts. They are available in limited quantity at Victorian Trading Co.
Other Embellishments: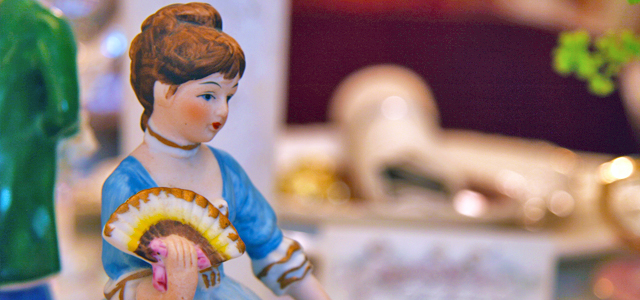 Place Cards & Holders: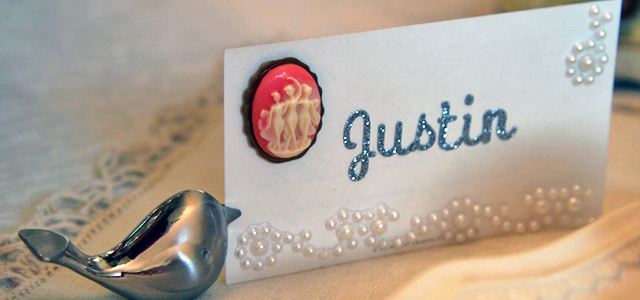 Place Cards: Adorable cherub calling cards showcasing love quotes (available at Victorian Trading Co.) transformed into my place cards. On the flip sides of each, I labeled guest names in silver and framed them with pearl and cameo embellishments, all of which were stickers purchased at my local Michaels Craft Store. The fun of these cards was that after guests were seated and in between courses, we all flipped our place cards over and took turns sharing our loving expressions with one another!
Place Card Holders: "Love Bird Card Holders with Brushed Silver Finish" available at Amazon offered the perfectly romantic way to display these little messages of love!
Hurdy Gurdies: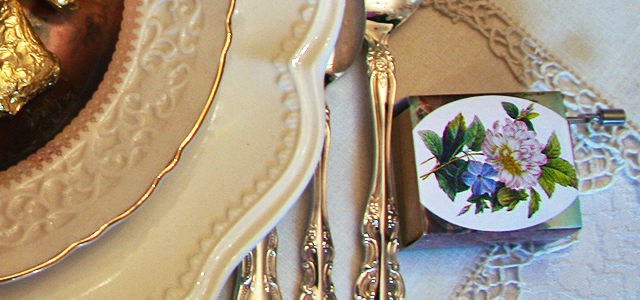 These timeless mini music boxes have been an instant guest favorite at my celebrations for years. They are available at Victorian Trading Co. For this table setting I used the romantic-themed hurdy gurdies and covered them with Redoute Flower Stickers for further personalization.
Toffees: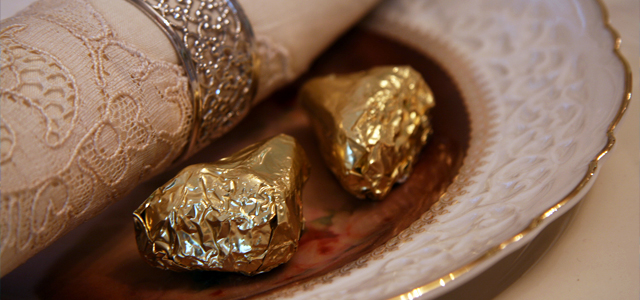 To round off my guest favors, each plate boasted two all-natural white chocolate covered toffees created by Lake Champlain Chocolates. Delicious!
~
Happy May! May your passions be your guides! ❤