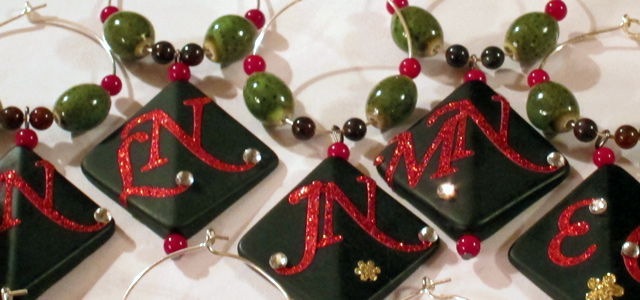 I love personalized wine charms! They stand out to me as a highly decorative and functional accent. They look stunning, and guests are often flattered to see their initials lovingly incorporated into a well thought-out table setting. In addition, the labels are truly useful in a multi-course meal served with wine pairings as the small, frequent pours no longer lend themselves to possible confusion during redistribution.
The basic instructions for the wine charms remain unchanged and can be accessed here. The only difference tends to be the choice of beads and colors, which can be anything that works with your selections. This year for Yule, I am playing with a juxtaposition between rustic and elegant that seems to resonate with me. Therefore, my choices reflect this focus. The large beads themselves are a basic grayish-black slate with a matte finish, but the alphabet stickers are a sparkling red with lovely decorative rhinestones, and I am very pleased with how these colors complement my handcrafted napkins.
I purchased my specific bead and sticker choices for Yule from my local Michaels craft store. They are detailed  are as follows:
 Recollections Glitter Alphabet Stickers embellished with rhinestones
Halcraft Bead Gallery Style#90387 Semi Precious Stone Beads 26 mm Natural S.P Stn Bds Black
Halcraft Bead Gallery Style#99729 Ceramic Green Oval 8X10 mm
Halcraft Bead Gallery Style#59557 Red Bamboo Coral 4mm Dyed Spacer Beads
Halcraft Bead Gallery Style#59559 Ruby Bracciated Jasper 4mm Stone Beads
Here are a few helpful hints to augment the directions:
1. Lay out your materials first. This organization allows your focus to be entirely directed toward creation.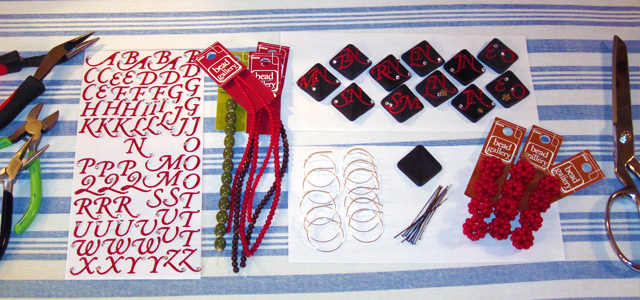 2. Beads can be neatly stored in trimmed paper cups.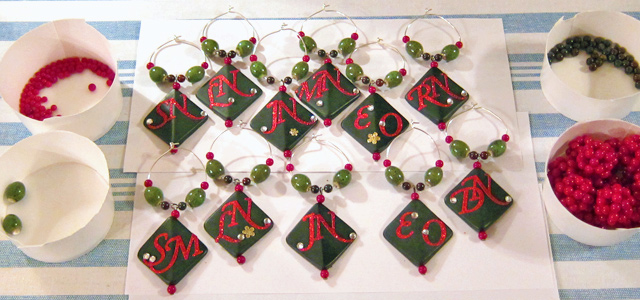 3. If stickers seem too large, they may still be useable if affixed using creative overlapping, wrapping, and trimming, and I have chosen gold asterisks to discern charms with the same initials.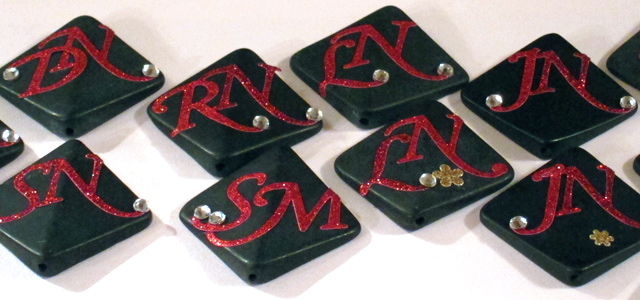 4. Allow yourself flexibility in the order of the steps. For example, because my chosen alphabet stickers were larger than ideal and somewhat delicate, I found it easiest to affix my initials first before assembling charms.
All in all, trust your instincts and have a blast!