The end of October, the last of the pumpkins… the late harvest is upon us. What an amazing time of year this is. A time of endings and a time of beginnings…for just as the harvest season finally winds down, it is almost as though the earth takes a cleansing breath and then begins the cycle anew. Cultivating connectedness with this aspect of the natural cycle enables us not only to remember past influences on our lives (including beloved friends and family no longer with us), but also to reflect on that which we wish to let go of, that which we wish to take forth into the new season, and then additionally what we envision for the coming year.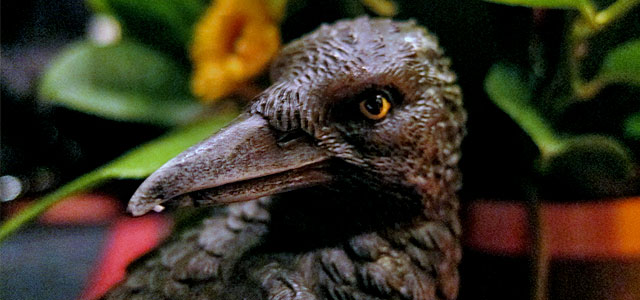 "Then this ebony bird beguiling my sad fancy into smiling,
By the grave and stern decorum of the countenance it wore.
"Though thy crest be shorn and shaven, thou," I said, "art sure no craven,
Ghastly grim and ancient raven wandering from the Nightly shore
Tell me what thy lordly name is on the Night's Plutonian shore!"
Quoth the Raven, "Nevermore." ~Edgar Allan Poe
Why ravens?
According to authors, Jamie Sams & David Carson from Medicine Cards: The Discovery of Power Through the Ways of the Animals, the raven symbolizes magic and "can give you the courage to enter the darkness of the void, which is the home of all that is not yet in form." (p.101) This makes raven the perfect symbol for the deep levels of reflection characteristic of this this late harvest time of year and the festival in its honor.
With all of these influences in mind, below are the details of my table selections:
 Tablecloth, Placemats, & Runner:
 Tablecloth: I chose a black, rectangular 100% cotton Home Tablecloth from Target. It met my size, color, and quality requirements with a very affordable price tag. No need to overemphasize or overspend on this aspect of the decor as the place mats and runner are the show stoppers here! (Though I prefer to buy gently used, I was unable to find a solid, black tablecloth in my size specifications on ebay. I still recommend exercising that angle first.)
Place Mats & Runner: From original paintings by artist Susan Dorf, these American-made Raven Table Linens are quite simply breathtaking. Even their texture is rich and stunning. They are a bit of a splurge, but what they do for your table is almost indescribable, and pictures do not do them justice. They are available at Gaelsong.
Dishware: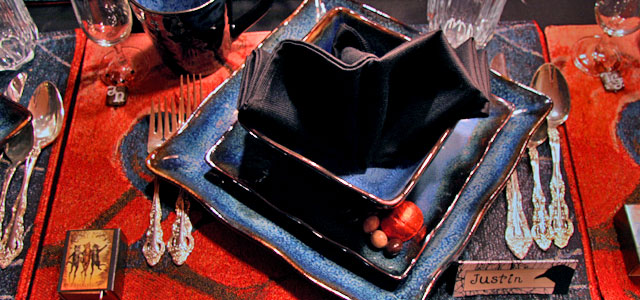 This lovely Tempest Blue Dinnerware is from also from Target. It is affordable, striking, and of a fine quality. It is available in 16-pc. sets.
Glassware: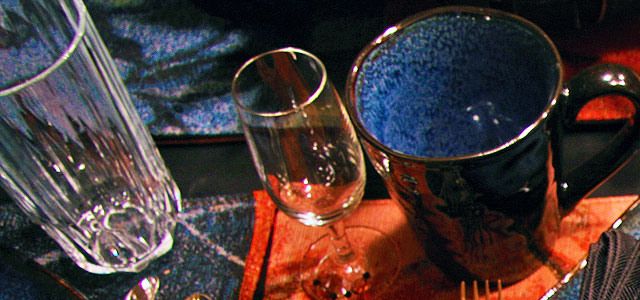 Water glasses: These were purchased in a set at T.J. Maxx.
Petite European crystal wine glasses: These look lovely and allow small, frequent pours, which are perfect for paired, multi-course menus. These were purchased on ebay.
Mugs: These were not purchased separately but rather were included in the dinnerware set (see details above.)
When considering a purchase, it may be helpful to note that many of these tend to be the same glasses I use every holiday, so they get plenty of use.
Centerpiece:
 Raven statues: Three beautifully crafted raven statues adorn the edges of the runner. Two on one side one on the other. They are available at Gaelsong.
Tapers: Four black beeswax tapers adorn the center of the table emphasizing the central aspect of reflection in this celebration. I purchased them at my local Whole Foods Market. (Note: beeswax, soy, or palm wax candles are preferable to paraffin as they do not release toxic compounds into your environment.)
Taper Holders: These lovely silver-toned multi height candle holders were purchased very affordably at my local Michaels craft store.
Flowers: These are festive jewel-toned, fresh fall arrangements in baskets. I love having fresh flowers on the table, and they act as a very nice warm offset to the cooler colors and energies of the ravens. The two baskets are not identical. Rather, the slightly smaller arrangement accompanies the two ravens with the larger basket joining the single statue. This helps nicely distribute the weight of the overall design. I purchased these florals at a local farmstand though with a couple of empty baskets and a little florist foam, they could be quite enjoyable to craft! The large crabapples and the berries offer a particularly nice touch!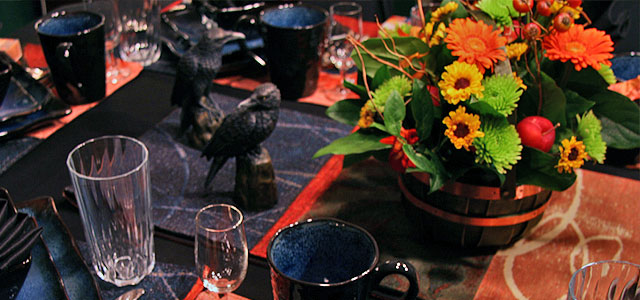 Napkins: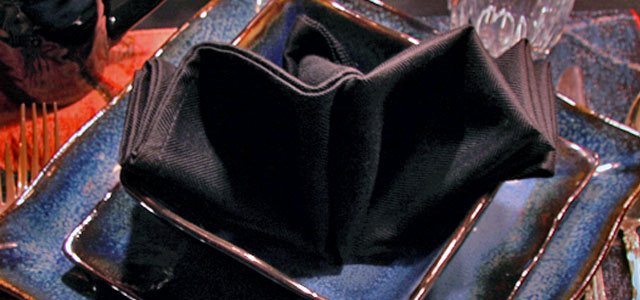 Black tribeca cotton/poly napkins purchased at Amazon are folded into the Standing Fan Napkin Fold (courtesy of wonderfully clear and illustrated instructions by NapkinFoldingGuide.com) and placed within the bowls. This creates a striking effect on several levels. First, it allows increased visibility of the stunning place mats, and second, this particular pattern of fold is suggestive of raven wings and ties in thematically.
Chair covers & Chair Sashes
Chair covers: These are black spandex and are available at: eFavorMart.com.
Chair Sashes: I only used these at the head of the table and tied them off in knots rather than bows. They are navy satin and are available on ebay.
Other Embellishments:
Candy
On this table setting, each salad plate was adorned with the following:
Personalized Wine Charms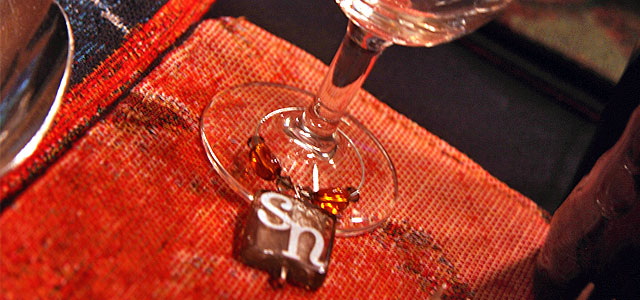 Wine charms with each guest's initials are not only very flattering but also quite practical, especially when pairing courses with wines and therefore involving small, frequent pours. Click for the instructions for making these sparkling and ever so versatile personalized wine charms.
Place Cards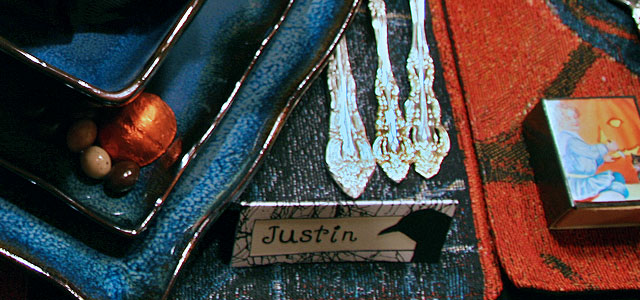 I received several nods of approval on these intriguing Raven Place Cards!
Click here for instructions on creating them!
Hurdy Gurdies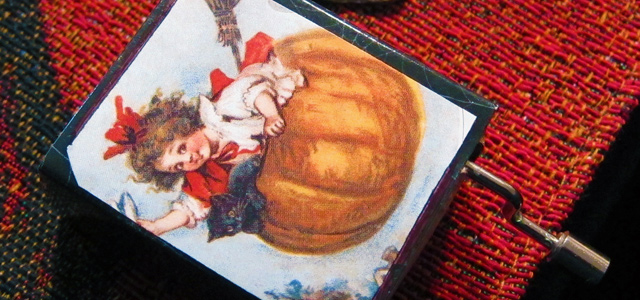 These timeless mini music boxes allowed me to maintain a quiet, reflective atmosphere while at the same time offer my guests an intriguing favor. They are Halloween-themed and are available at Victorian Trading Co. I further personalized them by purchasing Victorian-themed Halloween Label Vintage Stickers and cutting them out appropriately to vary the images on the fronts of the hurdy gurdies, so that each guest's treasure would be unique.
For an alternate version of this theme, see Late Harvest Tablescape Variation.
~
Happy Late Harvest! May your reflections be fruitful ❤