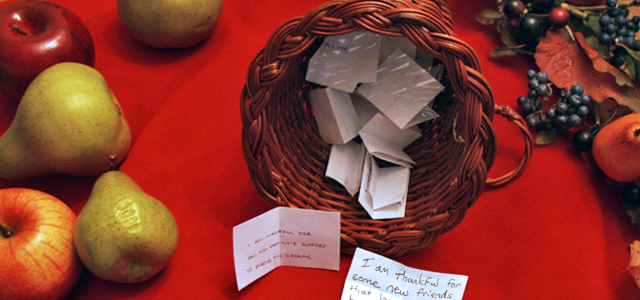 Though I adore sharing holiday meals with friends and family, I frequently yearn for additional ways to celebrate and bond. And harvest get-togethers with their focus on thankfulness are wonderful opportunities to do just that! The following activity offers a simple yet delightful and touching chance to appreciate and share on this special day your own thoughts and feelings as well as those of loved ones.
❤❦♪♫
Supplies:
Pens
small pieces of paper (we used recycled scraps)
a basket or container (we used a small cornucopia)
Preparation:
Simply place supplies in an out of the way spot. We used a side table in our dining room.
 How It works:
When guests arrive, ask them to take a moment whenever they get a chance to jot down on one of the paper scraps anything at all for which they are grateful, then to fold it up and place it in the basket.
Only real rules:
Only one item per paper (no lists :) )
Everyone must contribute at least one. (Smaller children can have an adult helper write for them.)
If you like, you can also share that you will be trying to guess to whom each of these belongs, so they are welcome to be funny as well as serious, as long as they are all straight from the heart!
Periodically remind guests to participate. You can even leave little reminder notes about your home.
Finally during dinner… the moment everyone has been anticipating! Choose the time that works best for you… We waited for the pause between our first three courses (of soup, salad, and bread) and our main course because we all needed a moment to savor our food. Another natural pause could fall between dinner and dessert. Even after dinner could work well. Whichever moment you choose, you simply pass the basket around the table, and each guest pulls a paper, reads it, and then everyone tries to guess who wrote it.
Sometimes this activity inspired clarification, additional conversation, or laughter. Sometimes it was easy to guess, and sometimes we had no idea and were extremely touched by gratitudes we did not expect. We even had some tricky answers where guests had tried to anticipate what others would say and create stumpers! In the end, all truly seemed to enjoy and bond over this additional opportunity to understand and appreciate one another, the bounty of our meal, and this wonderful time of year.
One note of caution… be prepared for tears :)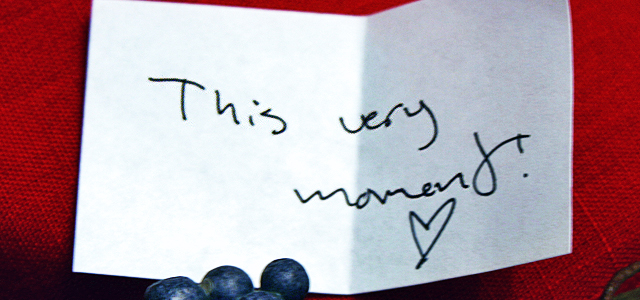 Happy Harvest!